Please check this page on a regular basis for updates, support and advice during the school closure. We promote other relevant guidance and ideas on our Twitter page: @wfieldprimary 
Our 'Home Learning' tab will have learning resources for each year group.
Direct Contact – Children's Champions
In these challenging times we want you to know that we are here to offer reassurance and support. Please do not hesitate to contact us if you think there is some way we can help. Our numbers are below and we will be available between 9am and 12pm.
For KS1 - Jane Benton can be contacted on 07561 611478
For KS2 - Maria Eland can be contacted on 07561 611469
City of York Council Emergency Fund
The City of York Council have released details of a 1.25million support fund for York residents. Details here: https://www.york.gov.uk/news/article/120/city-of-york-council-announces-emergency-coronavirus-fund-to-support-residents
Food
School will be providing a grab bag lunch for children who are eligible for Free School Meals. These can be collected from the Breakfast Club building (near KS2 hall) between 11:00am and 12:00pm.  We are hopeful that in the next week we will have more information regarding the Government Free School Meal vouchers and will be able to distribute them soon.
Medical Signposting
If you have any health concerns for yourself or any of your friends and family please visit the NHS website: https://www.nhs.uk/conditions. 
Mental Health 
Below is a list of organisations and charities that can offer support to anybody who is struggling with their mental health and wellbeing.
The Samaritans: https://www.samaritans.org or call 116 123
York Mind: https://www.yorkmind.org.uk or call 01904 643364
Shout: Text 'SHOUT' to 85258
Tip on coping with anxiety: https://www.yorkpress.co.uk/news/18321134.coronavirus---tips-coping-anxiety-panic-attacks/
Financial Support and Advice
Citizen's Advice Bureau: http://www.citizensadviceyork.org.uk
Benefit enquiries and advice: https://www.gov.uk
Family Support
Family Information Service (FIS): https://www.yor-ok.org.uk/families/FIS/family-information-service.html
Family Matters: https://www.familymattersuk.org or call 01474 536661
Safeguarding
NSPCC: https://www.nspcc.org.uk or call 0808 800 5000 to report a concern.
If you are under 18 please call: 0800 1111
Upcoming Family Matters Courses
Please see attached flyers for upcoming courses you may be interested in. These are lead by Family Matters York (https://fmy.org.uk/). 
Handling Anger In The Family - Morning, afternoon and evening courses available. See below:
Separated Parents Course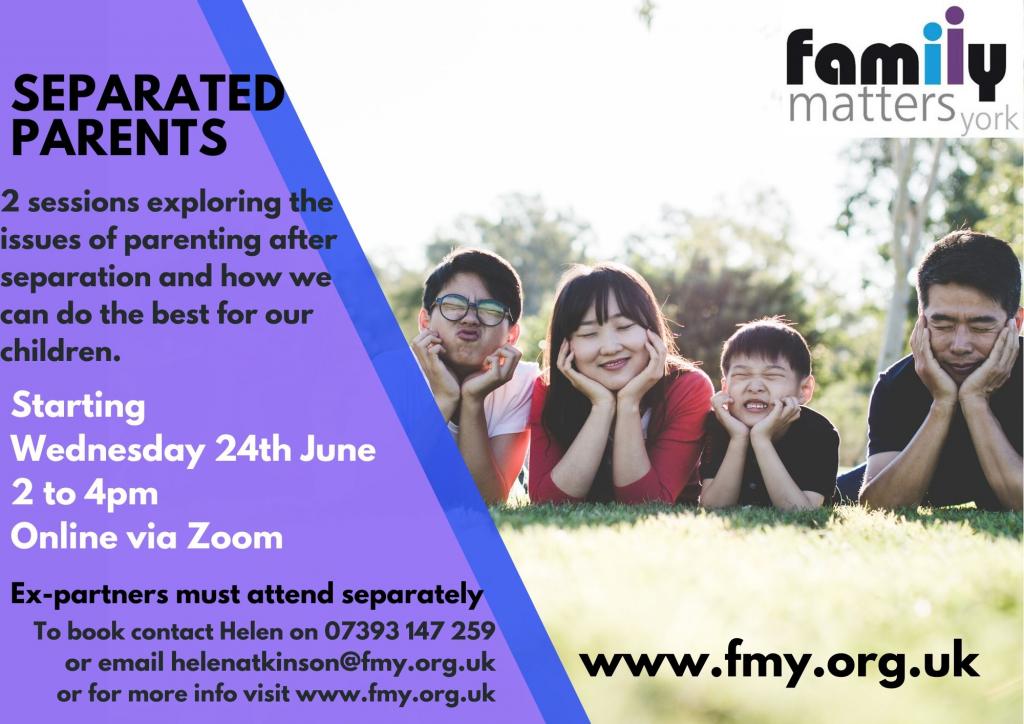 Early Years Course