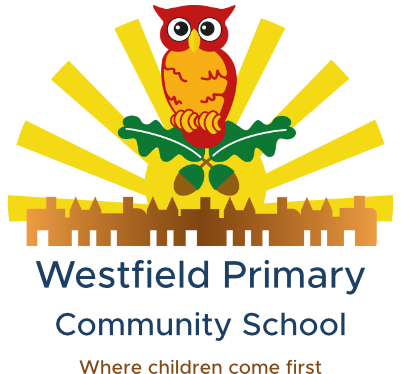 Westfield Primary Community School
Askham Lane
York
YO24 3HP
01904 555295
Dear Parent and Carers
How lovely that the sun is shining on our last day of term.
We find ourselves at the end of what has been the most unusual year. The global pandemic has changed the way we all live our lives and affected us all in varying degrees.  As we welcome all children back to school in September, we understand that some parents and children may need a little more reassurance. Just drop us a line if you have any questions and our Children's Champions will be available at the Summer Café in the last week of the holidays to support.
Staffing
We have had our own baby boom at Westfield this year and all staff and their new arrivals are doing well. As Mrs Watson and Mrs Evans return from maternity leave we say farewell to our teaching assistants Mr Burton, Mrs Kelley, Mrs Hudson and Mrs Goddard. We thank them all for their dedication and commitment which spans many years for some staff. Miss Sharpe, Mr Lowman and Miss Swan will join our teaching team in September and they have already been able to come to visit to meet some children and staff. We are all very much looking forward to September.
Our Y6 Team also want to thank the many Y6 parents who attended our leavers' assembly yesterday and we wish all the children who are leaving Westfield the very best for the future.
Opening Plan
Please follow the link to our website to see our plan for reopening in September.
https://www.westfieldprimary.co.uk/returning-school-september-risk-assesment
Mr Hattam has made a short video which you can share with your children as well; this is on the homepage of the website.  I am sure there will be more guidance released during the summer so we will email further details W/C 31st August.
Many schools are opting to do staggered start and finish times. Due to the size of our site, number of entrances and external doors we are able to have all children arriving on the playgrounds and going straight into school at 8:45am.
Wraparound care
Breakfast club will resume from 9th September so please book your place via ParentPay. Drop off will now be at the Children's Centre so that the KS1 hall can be used to maintain social distancing of bubble groups.  Our after school club which runs until 4pm will also be held in the KS1 hall.
School Meals
Our full menu will return in September. As soon as NYCC release their menu we will forward this to you all and add it to our website. There will be a small price increase from September. Nursery lunches will be £1.75 and all other meals will be £2.30.
Building Update
Covid-19 has affected a number of building projects across York and our planned works for this summer have been considerably delayed. We are delighted that our KS1 playgrounds will be resurfaced; this may cause some disruption upon our return but we will keep you updated. To have a new playground will be fantastic so the disruption will certainly be worth it.
And finally…
After almost thirty years in teaching I have never experienced anything quite like the last five months. Even though there have been many challenges, there have been even more positives and this is thanks to the amazing staff team and Governors at Westfield. Everyone has worked tirelessly to maintain home learning, keep you connected through virtual assemblies, regular phone calls, Google Classroom as well as teaching the many children who have been in school. It has been fantastic to see the children flourish in their bubbles.
I hope you all have a wonderful summer break.
Lamara Taylor
Headteacher